Mentoring Program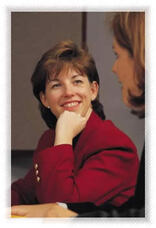 Would you like a fellow professional to talk to?
Do you have experience in the funeral profession you would be willing to share?
Are you in a quandary? Could you use some advice from a fellow professional?
Please consider supporting your fellow professionals and signing up to become a mentor. Complete the Online signup form or call the OFDA office at 1-800-589-6332 if you are interested in participating in this program.
---
Mentor: A Trusted Counselor or Guide; A Coach
By: Stephen J. Gehlert, Executive Director
(excerpt from July 2008 Newsletter)
A friend loves at all times, and a brother is born for adversity. -- Proverbs 17:17

He who walks with the wise grows wise, but a companion of fools suffers harm. -- Proverbs 13:20
The two quotes above from the Book of Proverbs illustrate the power of developing strong, honest, encouraging fellowship with our peers.
If you are like me, you can remember a time when a friend or someone you respected took time to share with you their wisdom and experience in dealing with a difficult situation you were facing. I have been blessed to have a handful of mentors who have really made a difference in my life, and I truly believe a mentor can help all of us to raise our level of personal and professional accomplishments.
The dictionary defines a mentor as: A Trusted Counselor or Guide; A Coach.
At their annual planning meeting, the Executive Committee expressed their wish to develop a mentor program for members of OFDA. The purpose of the program will be to match up a member who chooses to be a mentor with a funeral director who may be looking for advice, encouragement, or wisdom in any number of areas.

The Mentor Program would allow us to help each other with issues such as:
How to balance professional life and personal life in such a demanding profession as funeral directing;
How to buy a funeral home;
How to create outreach programs to serve the community; or
Simply provide an outlet to confidentially discuss problems someone may be experiencing.
The Young Funeral Directors Committee, under the chairmanship of Sean Gillen, has agreed to work this year on helping to develop a data-base of individuals interested in being mentors and those who are looking for someone who would be willing to help them in this program.
I know there are a huge number of members who have the talent, wisdom, knowledge and desire to make this program a tremendous success. I know this because many of you have mentored me over the years.
Please help us make this project one that will improve funeral service in Ohio for many years to come. Take a minute to fill out the online form.
As John Kennedy once said, "A rising tide lifts all ships."
Let's work together to raise the profession of funeral service to awesome heights.